Solving the Industry's Most Challenging Sourcing and Supply Needs
Originally featured in the CTS Clinical Trial Supply Handbook 2022.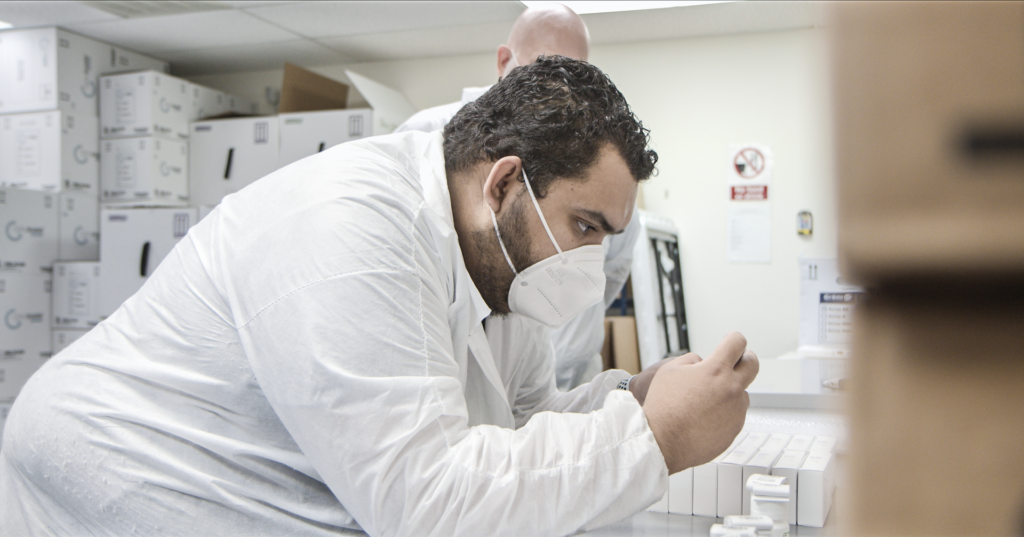 Whether it's procuring comparator drugs, packaging, labelling and kitting, or distributing drug products and supplies to hundreds of clinical trial sites, you need a smart, agile partner with the ability to manage complex supply chains and global logistics.
By choosing Tanner Pharma, you gain:
Access to a dedicated, experienced program manager
Teams based in multiple time zones, accessible 24 hours a day, 7 days a week
A technology platform that tracks product, timelines and other logistical details
A cost-effective solution with a high-touch service
Unwavering commitment to quality and compliance
Tanner's extensive knowledge and experience in the clinical trial and supply chain space simplifies complicated regulatory and import/export processes, and our network of suppliers can quickly deliver cost-effective and high-quality pharmaceuticals — when and where they are needed. Our services include:
Sourcing and procurement: We provide comparator, reference-listed drugs and biosimilar sourcing solutions as well as drug-related logistics
Repackaging, labelling and kitting: We provide cost-effective repackaging, design and printing of clinical labels, kitting and ancillary labelling
Storage and distribution: We have established and maintain a global storage and distribution network, enabling us to ensure quality solutions and instill confidence, no matter the location
Gatekeeper function: We manage clinical trial supply requests on behalf of the manufacturer, providing them with much needed control and visibility
Below, we share recent case studies that highlight our ability to solve even the most complex sourcing and supply challenges faced by drug developers and manufacturers.
What if you Need Product Supply for a Clinical Trial at Hundreds of Sites?
A biotechnology company running a Phase III oncology clinical trial required investigational product storage, labelling and distribution of 13,000 units of product to 350+ sites worldwide. In addition to full GMP and GDP compliance and timely management of logistics, the company also required:
Use of approved, local partner depots
Maintenance of a strict 2 – 8 °C temperature range throughout storage and distribution
Coordination of import clearance and importer of record challenges
Weekly reporting requirements from a validated ERP system
Local destruction of drug at the conclusion of the trial
A dedicated program manager served as the single point of contact to ensure the successful program delivery which included weekly follow-up calls and continuous ERP reporting. Tanner used its importer of record capabilities and EU-GDP validated supply chain in the UK, Americas, Asia Pacific and Europe for distribution to local depots around the world. Relying on our GMP experience with packaging, labelling and storage, along with our global network of approved partners, freight agents and couriers, we ensured timely delivery and continuity of the cold chain. We also provided local destruction options and worked with validated, medical translation service partners.
As a result of working with Tanner, the Phase III trial was planned and executed within the specified timeframe and within budget and has since moved on to the next stages of approval. Over 3,000 packs were delivered to the clinical sites and the biotech company has since awarded Tanner with additional programs.
What if you Need to Orchestrate a Complex Supply Chain and Aggressive Timelines?
A US-based generic pharmaceutical company contacted Tanner to help procure and deliver 165 packs of a branded EU cardiology product. To meet research and development requirements, the products needed to be procured from three different lots to support the phase III, global study. Additionally, the pharmaceutical company required near-term delivery of the lots within a three-week timeframe, with the final destination being India.
Due to the challenging logistics and short lead time, we used our specialty EU supply network to source the three lots, successfully securing the needed product against an aggressive timeline. We supplied product from Spain, Germany and Czech Republic, along with the relevant documentation, for importation into India.
Understanding the mechanisms and timing required to obtain the import permit, we arranged for storage of the three lots in a warehouse based in Austria, until the customer was ready to ship. Per GDP requirements, we ensured the product was kept within its temperature range during storage and the outbound shipment to India.
Tanner's experienced team was not only able to provide the pharmaceutical company with a rapid turnaround time, but a solution that met all requirements and was cost-effective. Our flexibility enabled the collation of three lots in a central warehouse, thus combining three shipments into one and saving on overall distribution costs.
Additionally, our GDP experience allowed us to manage all logistical aspects in an efficient and compliant manner, ensuring integrity of products from the sourcing point to their final destination. Our team kept to the rigid project timelines to ensure there were no costly delays to start the R&D work, ultimately saving our partner 7 days on their original timeline.
What if you Need Control and Visibility Over Global Requests for your Drug Products?
A generics company was receiving many international inquiries for their drug portfolios spanning several therapeutic areas. Managing these requests and accompanying logistics while minimizing exposure to risk had become difficult due to lack of internal resources and regulatory knowledge.
Tanner developed and implemented a system to review and approve requests that included specific criteria by which requests were qualified. We liaised with local authorities to ensure all needs were met based on the country-specific requirements and identified and managed all import and export requirements as well as regulatory and compliance guidelines. The Tanner team oversaw distribution and storage of products according to EU-GDP standards using in-house and outsourced capabilities.
As a result of this program, critical medications have been supplied to 23 countries across five continents. The company has been able to maintain complete visibility to all requests and receive reports on outcomes data. Additionally, this gatekeeper function allows the company to devote internal resources to functions that drive the greatest value, gain insight into markets and key players requesting their products and increases the accuracy of manufacturing forecasts.
Why Tanner CTS?
Local market know-how: Tanner has more than two decades of experience in the clinical supply industry, supporting customers in 5 continents around the world.
Worldwide procurement capabilities: Tanner provides reference-listed drugs and comparators in countries worldwide, with access ranging from generics to REMS medication.
Commitment to success: Tanner is a solution-oriented company with the grit and ethos needed to make a difference every day for patients and customers around the world.
Innovative and flexible: Having worked with a variety of partners from biotechs, generic and large pharma companies to CROs and CDMOs, the Tanner team never applies a "one size fits all" approach. We tailor our services in accordance with the needs of each customer.