Tanner Pharma Group Announces Start of Construction for Cutting-Edge US Operations Facility
We are thrilled to share that Tanner Pharma Group is embarking on a new chapter of growth and expansion with the start of construction for a new, state-of-the-art operations facility in Charlotte, NC USA. This milestone signifies our unwavering commitment to enabling patient access and providing enhanced storage, distribution, and logistics capabilities to our partners in the healthcare industry.
The new facility has been meticulously designed to meet and exceed the stringent standards set by the healthcare sector. With a keen focus on compliance and quality, this facility will further strengthen our ability to serve our clients and customers, ensuring the safe and efficient handling of healthcare products.
Let us walk you through a few of the key components of our new warehouse:
Dedicated Controlled Ambient Space (15°C – 25°C): This section will provide a precisely controlled environment to preserve the integrity of sensitive products. Leading technology will maintain ideal conditions, ensuring that pharmaceuticals remain safe and stable throughout their storage.
Secondary Manufacturing Workspace: This sanitized workspace will include rooms for relabeling, kitting, packaging and other clinical trial services.
Extensive Refrigerated Storage (2°C – 8°C): The refrigeration zone will offer a storage solution for products requiring controlled cooling, employing state-of-the-art refrigeration systems.
Frozen Storage (-20°C and below): For products transported within a cold chain, our warehouse will be equipped with robust freezer facilities, ensuring the safekeeping of ultra-sensitive products while adhering to the strictest standards of quality. Additionally, we are proud to announce our new -80°C freezer storage capabilities, a crucial component that will offer our partners even more options.
Meeting and Office Space: Our warehouse will also include collaborative meeting and office areas. These spaces will serve as hubs for fostering innovation, teamwork, and client engagement, enabling us to work closely with our partners to achieve shared success.
Future Outlook: Our warehouse has also been designed to accommodate future expansions. We are prepared to grow alongside our partners, ensuring that we always meet evolving needs and demands.
At Tanner Pharma Group, our commitment to excellence drives us to continuously enhance our services. With the new warehouse, we aim to provide our current partners with an even stronger support system while also welcoming new prospects seeking a trusted pharmaceutical services partner with unwavering dedication to quality and compliance.
Stay tuned for further updates as we progress with the construction of this facility. We look forward to continuing to expand our capabilities to ensure vital medications reach those who need them most.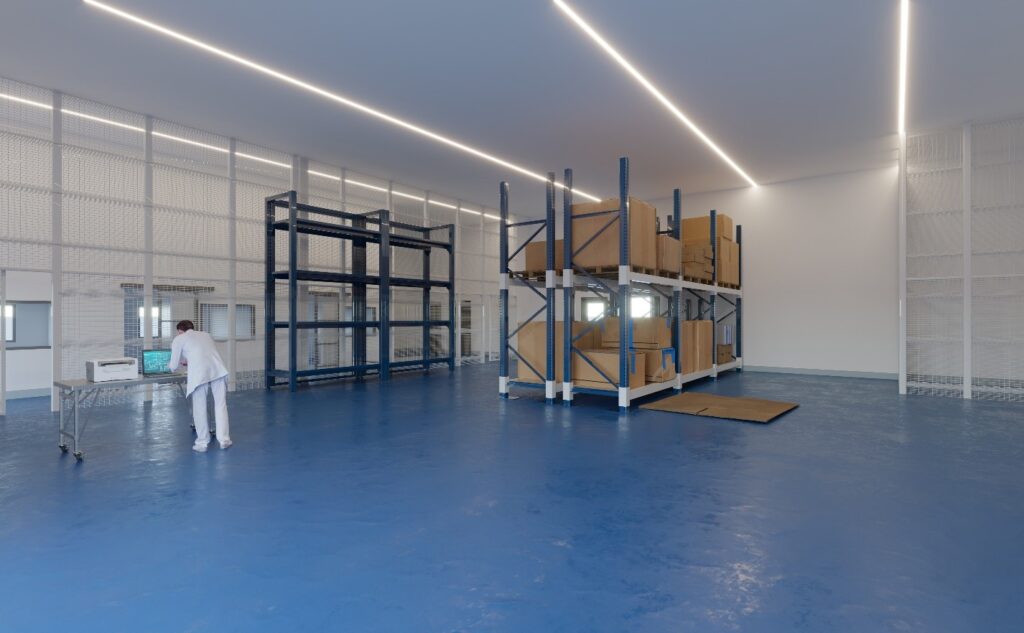 Simple rendering of the controlled ambient space.