The Mexico Pharma Market: Growth factors and advantages for manufacturing
Global pharma companies are turning their focus to Mexico, with its low manufacturing costs and proximity to the US as two of the major advantages. We take a look at some of the factors behind the growth of the Mexican pharma market, and the challenges with meeting regulatory requirements.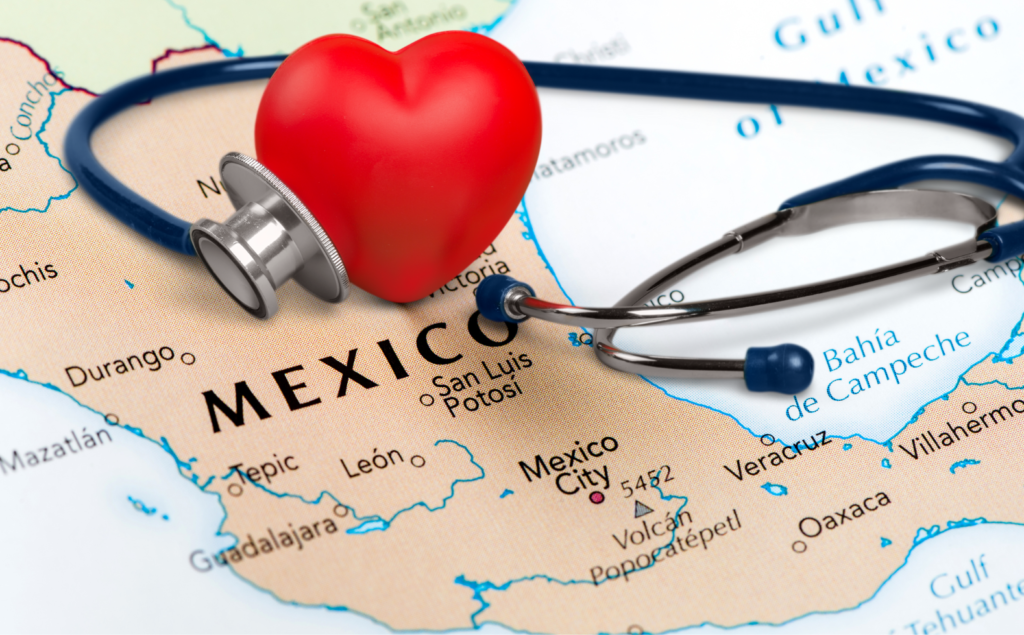 Mexico is Latin America's second-largest pharmaceutical market and ranks in the top 15 on the global list of biggest pharma markets. By 2025, multiple growth factors are contributing to this figure rising to a projected $30.04bn, according to GlobalData analysis.
In addition, more than $15.48bn in pharma sales were recorded in Mexico in 2021, and the country offers a strong manufacturing base for antibiotics, analgesics, and antiparasitics. Furthermore, the Mexican market typically favors branded products over generics, making the country a highly suitable location to license innovative medicines.
And there are numerous opportunities for pharma companies in Mexico. When it comes to core health services, an estimated 90% of Mexico's population of 128.9 million has coverage. However, out-of-pocket payments make up more than 40% of total healthcare spending in the country.
"Most products that are introduced to this market start out as an out-of-pocket expense, so this can prove beneficial for pharmaceutical companies," says Margarita Chala, Commercial Operations Director of Tanner Pharma's dedicated division for Latin America, TannerLAC. "Companies can start with a higher price to the private sector, which will then allow them to offer discounts to the public sector – equating to higher sales volume over time."
Making the Mexican pharma market more competitive
Mexico is increasingly attracting international pharma companies and contract manufacturers. Recent government interventions have helped make the country more competitive in the R&D of new drugs and the biosimilars market, as two examples, according to GlobalData. Then there is the rapidly growing market of medical tourism, with estimates suggesting that treatments in Mexico are 30%-70% cheaper than in the US.
One challenge the Mexican Government has made a priority is stamping out historic issues such as alleged corruption and accusations that public funds are being misused. The intention is that this action will increase transparency and improve confidence among international investors. The national government is also taking action to resolve issues regarding the supply chain and regulations. Additionally, to address ongoing shortages of medicine in the country, the government has changed the processes by which medicines are acquired in a bid to improve matters.
Furthermore, a significant change was announced in August 2020. The Federal Commission for the Protection Against Sanitary Risks Comisión Federal de Protección contra Riesgos Sanitarios (COFEPRIS) unveiled plans to speed up the approval process for generics and biosimilars in Mexico. The plans enable drug manufacturers to file for registration of generics and biosimilars the next day after patent approval is granted for the originator drug. These changes can potentially cut years from the approval time for generics and biosimilars, with government investments also enhancing Mexico's self-sufficiency in this key pharma segment.
Mexico has also been working to publish its National Pharmaceutical Policy (PNF), with the intention to boost and support nationwide scientific research, while also encouraging innovation in pharmaceuticals.
Proof that this strategy is taking effect is in the significant amount of international pharma companies and CROs with operations in the country. GlobalData estimates that just under half of all companies involved in pharmaceuticals in Mexico have overseas owners, attracted by manufacturing costs that are 17 times lower than in the US, according to 2018 figures.
Attracting international investments in pharma
Mexico is fast becoming one of the most promising global destinations for pharmaceutical investments, with contributing factors that include a middle-class population that is already large and also growing, a favorable environment for the private sector, and an increase in demand for healthcare services nationally.
Mexico is a particularly appealing location for foreign investments, thanks to its lower costs for manufacturing and clinical trials, as well as its closeness to the US – the largest pharma market in the world. Doctors and patients are often familiar with new therapies being developed in both countries and are keen to gain access.
In fact, the majority of foreign direct investment in Mexico comes from the US. The appeal of Mexico for US investors has increased in recent years, driven by efforts to lessen the dependence on China.
Disruption to the supply chain caused by Covid-19 has been another factor in US companies opting to bring manufacturing activities nearer to their main base of operations. North American neighbor Canada is also making the most of what the Mexican pharma market offers for operations.
Clinical trials in Mexico
Regarding clinical trials, GlobalData reports that 763 were held in Mexico between January 2019 and February 2022. In terms of therapy areas, most trials in this region have been in the infectious disease segment during the last three years, driven in part by demand for the development of a Covid-19 vaccine. This is followed by oncology. As for indications, infectious diseases make up the bulk of clinical trials, with autoimmune disorders and diabetes following some way behind.
Large pharma industry players are reportedly represented significantly more than domestic companies in the category of top clinical trial sponsors in Mexico.
With a large population supplementing high recruitment rates, competitive market costs, a high level of specialization across the clinical research phases and other key advantages, Mexico is a region worth considering for companies involved in clinical research.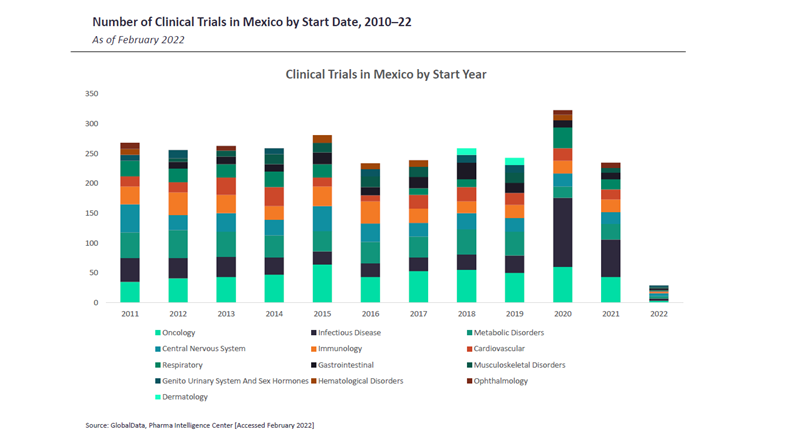 Navigating the pharma landscape in Mexico
Despite the many advantages, companies entering the Mexican market are often surprised by the level of regulatory requirements – especially in terms of pharmaceutical registrations.
Mexico is the main market serviced in Latin America by TannerLAC. The division is highly skilled at navigating regulatory issues in the region and has considerable experience in understanding how laws are applied on a practical level.
TannerLAC has built up an extensive network of partners. This network and experts on the ground provide the company with a wealth of the latest information, covering everything from regulatory changes to sourcing disruptions and sociocultural factors.
"We have the knowledge of what's needed, and we have very creative ways to overcome certain obstacles," adds Chala. "That's always been the plus of having us as a partner."
To learn more about how the five key pharma markets in Latin America and ways that TannerLAC can help navigate regulatory hurdles, download the whitepaper below.
A Guide to the Key Pharma Markets in Latin America
For pharma companies interested in product expansion, Latin America is one of the most interesting and dynamic parts of the world to establish a presence. This emerging region has many opportunities for new entrants, with a high demand for specialty pharmaceuticals, supplements, and diagnostics – and some key untapped markets. The region has a population of more than 650 million people, mostly in urban areas. In 2021, Latin America displayed the fastest regional pharmaceutical sales growth worldwide, reaching 15.6%. And growth expectations throughout the region are high. In this whitepaper we profile the key markets of Argentina, Brazil, Chile, Colombia, and Mexico. Download to learn more.