Sending Wilson home: A story of perseverance and teamwork
(Repost from ZNM)
Wilson – a small child with a rare muscle condition called centronuclear myopathy – gets life-saving medical equipment and goes home to his family after spending almost 2 years at the hospital thanks to the support of two patient organizations in Europe and US and the financial assistance and guidance from Tanner Pharma Group.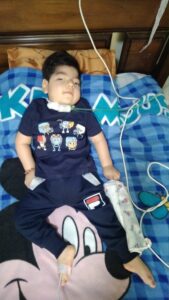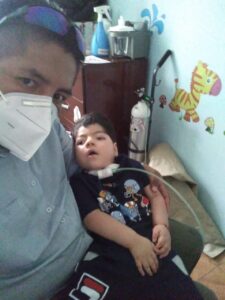 Little Wilson, or 'Wilsito' – as his parents call him – is a 20-month-old boy with a rare form of muscle condition called centronuclear myopathy (CNM). He has lived almost all his life at the hospital, because in Ecuador – the country he was born – the healthcare system cannot provide for home-equipment needed for Wilson's survival. This includes a set of two ventilators, suctioning machine, cough assist, oxygen concentrator to count a few.
Desperate to bring Wilson home, his family reached out to Jen – also original from Ecuador -from ZNM – Zusammen Stark! e.V., a German association that helps families with centronuclear myopathies. She connected with Alison from the Joshua Frase Foundation, the US association for centronuclear myopathies and from then on, all the magic started!
Alison has been such blessing for Wilson and his family. First, she found two families willing to donate all the necessary equipment for Wilson, as their own sons sadly passed away recently. Then, she connected with another CNM-family, willing to pack all the equipment to be shipped. And not only that, she managed to send all the equipment to Ecuador with the guidance and financial support of Tanner Pharma Group, a global specialist pharmaceutical services provider based on the US.
Meanwhile in Ecuador, Jen's sister-law, Maricarmen, made all respective procedures to legally nationalize all equipment at customs. "It was definitely not an easy task, however, we as a team succeeded to provide Wilsito with the life-saving equipment so much needed to send him home with his family and friends" said Maricarmen.
The equipment has been tested by Wilson under medical supervision and now the dream to take Wilson home became true! "Wilsito is finally home and our hearts are overwhelmed with joy and gratitude for all these wonderful people that help us in our journey" said Andreina, Wilson's mother and added "Wilsito will finally learn, play and cuddle with his family at home, where he belongs!". The joy brought to Wilson's family is beyond measure.
"We thank wholeheartedly each and every one who made this dream come true. It is fascinated, what can be achieved, if a bunch of people work together for a common goal" said Jen, while Alison added "this story is indeed one powerful demonstration of teamwork and perseverance and will keep motivating us to work for these beautiful children in the future".
Now, the next challenge is just around the corner: For Wilsito to stay at home the family needs support to buy consumables (circuits, filters, canules, just to mentioned a few) for this medical care, as well as to pay for home visits for physiotherapists and pediatricians. ZNM – Zusammen Stark! e. V and Joshua Frase Foundation already received from generous individual donors around the globe about 1500 € and consumables enough for his first six months at home. Please help us with a donation to keep Wilsito at home with his family.
Thank you so much! Only with your support, we are #TogetherEvenStronger and #AlwaysfortheChildren.
About Centronuclear Myopathies
Centronuclear myopathies are very rare muscle diseases. The most affected children with centronuclear myopathies cannot walk; they need a feeding tube and a ventilator to support their breathing. This, however, does not stop their will to learn, play and discover the world, as other children in their age.
About ZNM – Zusammen Stark! e.V.
(CNM – Together Strong!) is a self-help association for myotubular myopathy and other centronuclear myopathies (CNM = ZNM). We represent 165 individuals from 63 families with a CNM in Germany, the Netherlands and Austria. As a self-help organization our main goal is to connect those affected and their families, and to support each other in our daily lives. This is mainly done by our yearly family conference, webinars and our closed Facebook support group. We also actively invest on research to find a treatment for these conditions. For more information please visit https://www.znm-zusammenstark.org/en
About The Joshua Frase Foundation
(JFF) is a 501C3 non-profit organization that was founded in 1996; a year after Paul and Alison's son was born with an ultra rare and fatal neuromuscular disorder.  Without hesitation, the foundation began funding cutting-edge research in the area of regenerative medicine, gene therapy and genetics since 1997.  JFF's mission is twofold: To find a cure or treatment for centronuclear and myotubular myopathies and to support families whose lives are affected by these disorders. Not only has JFF been able to fund groundbreaking science, pioneering into a curative treatment that has the potential to transform neuromuscular research; it has also built an international community of children and their parents. For more information, please visit http://www.joshuafrase.org.
About Tanner Pharma Group
Tanner Pharma Group is a specialist pharmaceutical services provider based in Charlotte, USA with offices in Europe and Latin America. The company has developed a portfolio of service offerings focused on improving the global access to medicines. Since 2002, Tanner Pharma Group has partnered with biopharmaceutical companies and non-profit organizations to provide turn-key solutions to increase patient access to medicines around the world. For more information about Tanner Pharma Group, please visit www.tannerpharma.com.